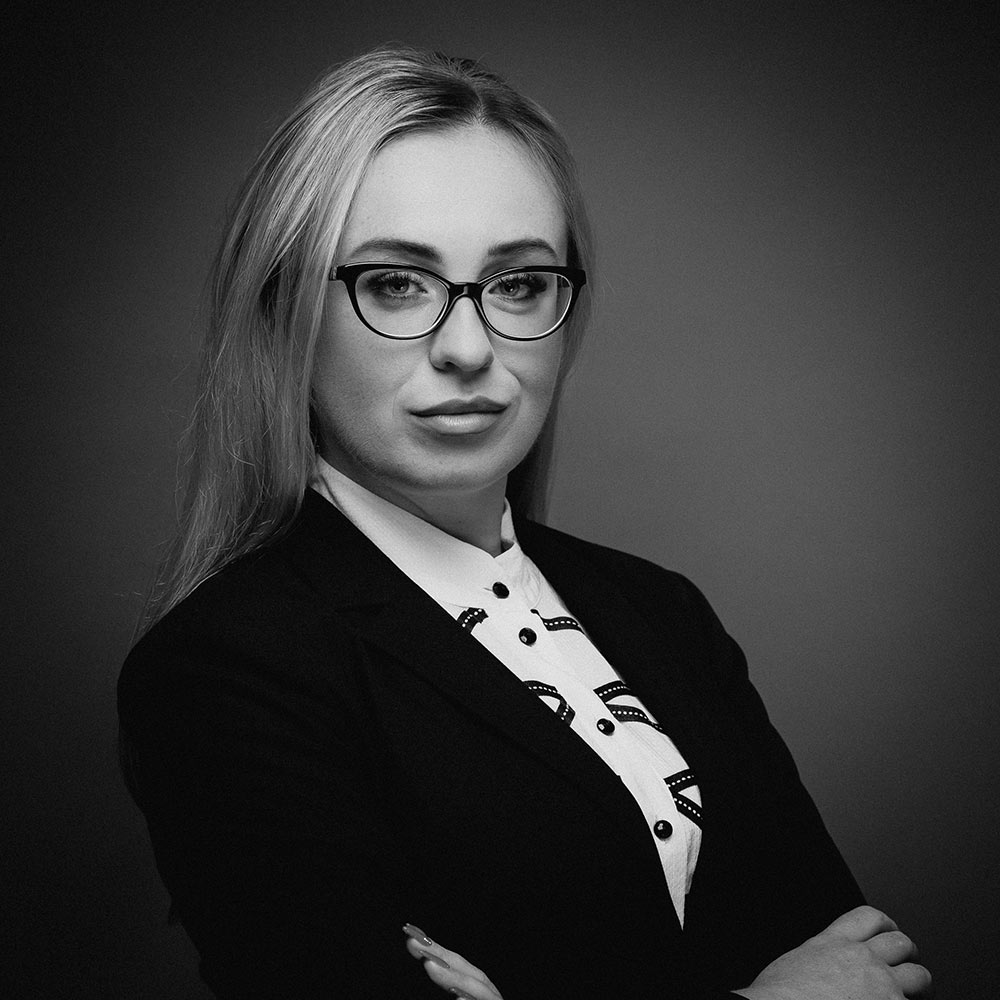 Areas of expertise:
Court disputes, civil law, business law, commercial contracts, bankruptcy (insolvency) and restructuring law, legal services for business clients, company registration and conversion
Languages:
English, Korean (elementary
Qualifications and professional experience
Joanna is an advocate with several years of experience of delivering comprehensive legal services to business clients. She is a member of the Regional Katowice Bar Association. She passed her advocate qualification examination with a distinction. Joanna gained her professional experience working for the leading law firms in the region of Silesia, South Poland.
She is an expert on civil law litigation, including disputes regarding building projects, such as infrastructure projects. She has an outstanding record of cases won for KBZ's clients, with final orders.
She has worked on company restructuring projects, focusing on aspects of commercial company law, with emphasis on company conversions and mergers.
She is an experienced member of company restructuring project teams. Joanna has also represented SPCG's clients in civil and business law disputes, as well as in many matters before administrative authorities and administrative courts, including tax law matters.
She has a master-level degree in law from the Faculty of Law and Administration, University of Silesia, Katowice, Poland. She is a PhD student at the Department of Civil Law and Private International Law at the Faculty of Law and Administration, University of Silesia, Katowice, Poland. She has participated in the Programme in European Private Law for Postgraduates.
Joanna is a speaker at academic conferences and the author of academic papers and newspaper/magazine articles on legal matters. She has worked on due diligence projects as well.
Joanna has been part of KBZ's team since 2016.
Research papers published
1)"Wpływ ogłoszenia upadłości na moc zapisu na sąd polubowny a zasada autonomii woli w postępowaniu arbitrażowym" – Autonomia woli w prawie prywatnym międzynarodowym i arbitrażu (Effect of the Declaration of Bankruptcy on the Strength of Arbitration Clauses versus the Principle of Autonomy of Intent in Arbitration: Autonomy of Intent in Private International Law and Arbitration), published by University of Silesia, Katowice, 2015.
2) "Metoda analizy funkcjonalnej – równoprawna metoda kolizyjna?" – Problemy Prawa Prywatnego Międzynarodowego (Functional Analysis Method: An Equivalent Conflict-of-Laws Method? – Problems of Private International Law), published by University of Silesia, Katowice – Vol. 15, 2014.
Interests