Protect your trademark in the EU with KBZ law firm
KBZ is a registered representative entitled to represent you before the European Union Intellectual Property Office. According to EU Law, any party based outside the EU is obliged to have a representative appointed.
What is a trademark?
A trademark is a sign that is used to distinguish the goods or services offered by one company from those offered by other companies. It is important to indicate the origin of goods or services. A trademark is an essential component of a brand's business model. It encompasses your brand identity, reputation and uniqueness.
What is the European Union trademark?
Instead of registering a trademark in each country separately, the European Union trademark grants exclusive rights in all Member States of the European Union through a single registration.
What can be trademarked?
A word, a 3D shape, an image, a melody, a symbol and any combination thereof.
Why is it important to register your trademark?
In the current globalized economy it is massively important to protect your own brand in order to remain competitive in the market. Through the registration, your trademark will be granted exclusively to your company. It conveys information about the origin of the goods or services and guarantees that your goods or services are distinguished from others. The registered trademark also provides a clear path for expansion into other markets, both domestic and foreign. On the Internet and social media, the trademark will be associated with your company only. Not convinced yet? Here is a simple example, how important a trademark is:
Budweiser case – the hundred years dispute over a trademark
Have you ever wondered, why you can actually buy different Budweiser beer in different parts of the world?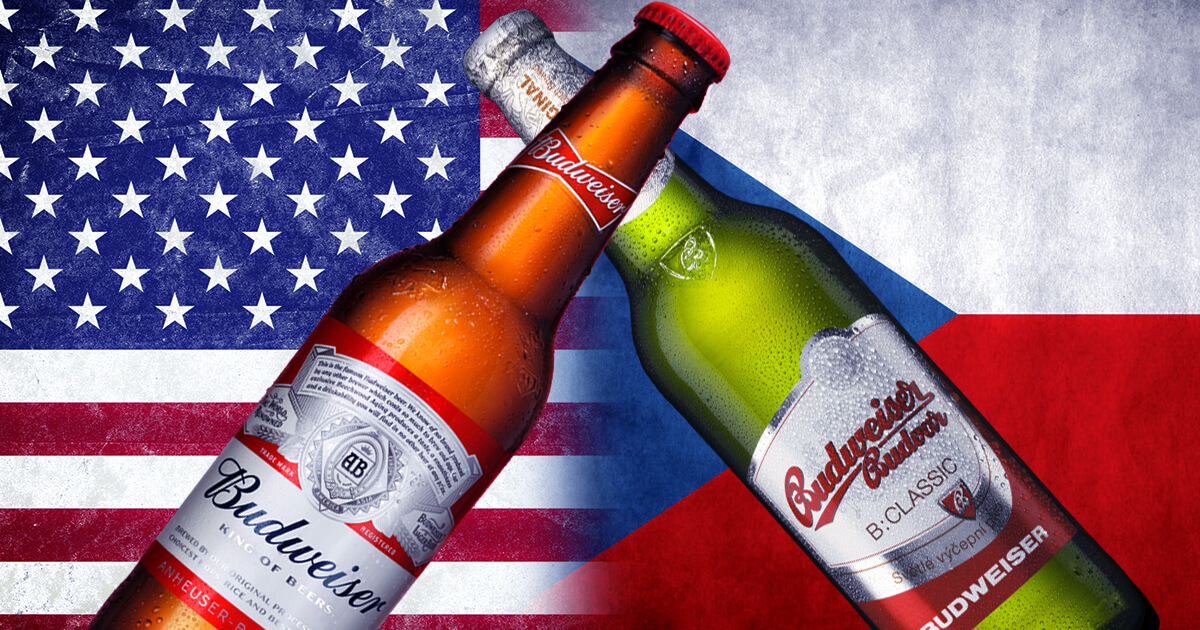 There is an interesting case where two trademarks have been registered in respect to the same class of a product and under the same name but in other parts of the world. The Budweiser trademark dispute is an ongoing series of more than a hundred legal disputes between two beer companies (one from the Czech Republic and one from the United States) who claim trademark rights to the name "Budweiser". As the case has been ongoing since 1907, the dispute is in place for more than one hundred years. For now, the Czech Republic brewery has the rights to the trademark in most of the European countries, while the American brewery has the right over the trademark in North America. What is more, in most of the Asian countries, Budweiser is also associated with the American brewery. To circumvent the situation, American Budweiser uses the name "Bud" in most of the EU countries and Czech Budweiser sells its beer in North America under the name "Czechvar". If any of these companies had registered its trademark in the timely manner, the dispute would have never happened and there would be only one Budweiser. The case proves that you should not wait with the trademark registration and postpone it when your company will be "big enough". Act promptly and protect your rights.
To whom?
From start-ups, SMEs to large multinational companies of all industries, willing to do business within the EU and strategically protect their brands and enforce their exclusive IP rights.
What do you gain?
You will obtain an exclusive right on your trademark, allowing you to use it safely and solely within the whole EU. At a reasonable price, you can gain full protection over your brand. Registering a trademark automatically gives you protection over your brand domain name. Upon application, you will receive a relevant confirmation and we will keep you posted throughout the process. KBZ Law Firm is also able to provide you with post-registration trademark supervision.
What will you lose if you do not register your trademark?
Your company development does not go unnoticed. Once you are successful, your trademark may be registered by someone else, and then the person registering it will gain the exclusive right over your trademark. If someone registers your trademark even in one of the EU countries, you will not be able to gain protection through the European Union trademark. You will lose the right to sell your goods or services under your trademark, regardless of how long you have been using it. To undo such an occurrence is particularly difficult and takes a lot of effort and cost. It is also worth noting that you will not be able to open a subsidiary or establish a franchise, because your trademark will belong to someone else.
KBZ law firm's trademark expert team
KBZ Law Firm's trademark expert team consists of lawyers specializing in intellectual property rights with excellent education background and many years of experience. In addition, we have multilingual and international competence, including Korean, Chinese, English, Polish, German, French, Italian, and Czech, so we can solve all problems related to foreign language paperwork and foreign customers smoothly and quickly.
Contact form
If you are still not certain whether it is necessary for you to protect your brand or not, feel free to contact us and let us explain everything.